8 Granny Smith apples (or cooking apples)
Add other fruit also if you wish
5-6 tbsp Sugar
Topping
60g Brown Sugar
65g Castor Sugar
125g White Flour
65g Oats
30g Sesame Seeds
30g Sunflower Seeds
125g Butter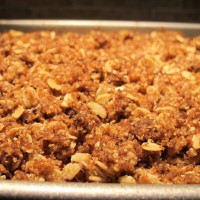 Cuisine:
Cooking time: 70 mins
Serving: 8 people
Method
Peel and slice the apples and lay in the bottom of a casserole dish.
Add other fruit if you wish.
Sprinkle with sugar – adjust according to the sweetness of the fruit.
Add butter, sugar and flour and other ingredients to a mixing bowl and crumble it together with your fingers until everything is well mixed together.
The crumble mix will go quite "sticky" when it is mixed properly. Spread this over the top of the fruit.
Bake in a pre-heated oven for 20 minutes at 190C and then reduce to 170C for a further 30 minutes. Remove from the oven after the first 5 minutes of baking and smooth the crumble with a fork. This will give the butter a chance to soften and will allow you to spread the mixture a little better.
Once the baking is complete, brown under the grill for a minute or two for extra crunch if you prefer.
Meal: Food type: