500g Pasta (Penne, Fusili or even Spaghetti)
500g Broccoli
4 cloves Garlic, crushed
1⁄2 tin Anchovies
1 glass White Wine 25ml
Olive Oil
Parmesan Cheese, grated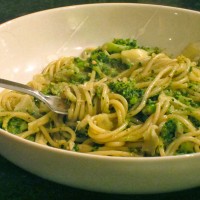 Cuisine:
Cooking time: 25 mins
Serving: 3-4 people
Notes & Tips
The anchovies in this recipe can be replaced with a little more salt to make this a vegetarian recipe.
Method
Put on a large pot of water to boil. Covering the pot will bring it to the boil more quickly.
Chop the broccoli roughly and add to the boiling water.
Chop and mash the anchovies into a paste.
Heat the olive oil in a frying pan and add the crushed garlic. Fry gently on a low heat for a few minutes. Don't let the garlic burn or brown, removing from the heat if it's frying too quickly.
Add the anchovy paste and cook gently, allowing the anchovies to break up.
Increase the heat and add the glass of white wine. Bring to the boil and simmer for a few minutes, stirring constantly, until the mixture comes down to a slightly thicker consistency and the anchovies have dissolved.
At this point the broccoli should be nearly ready. It does not have to be very soft but should be easily cut with a knife. Strain the broccoli and add it to the garlic and anchovy mixture.
Add some salt to the boiling water and make sure it comes back to the boil. Add the pasta and bring back to the boil once more.
While the pasta is cooking (the cooking time should be displayed on the pasta box and varies according to type), cook the broccoli mixture and mash the broccoli into it. Once the broccoli is all mashed in, take the mixture off the heat.
When the pasta is ready (it should be almost soft but still slightly firm), strain it quickly and add it to the warmed broccoli mixture.
Toss the pasta in the sauce while cooking gently on a low heat for a few minutes to ensure that the sauce coats all the pasta. Add a little salt as you are mixing, if required.
Serve immediately, topped with grated Parmesan cheese and coarse ground black pepper. Also lovely with some chilli flakes on top.
Meal: Food type: