3kg of ripe red organic tomatoes
2 medium onions
About 30-40 basil leaves
250ml filtered water
Salt and pepper to taste
4 tablespoons Olive Oil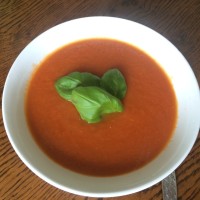 Cuisine:
Cooking time: 90 mins
Serving: 12 people
Very finely chop the onions.
Heat the olive oil in a large saucepan and add the onions.  Stir and cook until soft.
Meanwhile using a food processor, blend up all the tomatoes whole and put aside in a bowl.
Add the tomatoes and water to the onions in the saucepan and bring to the boil.
Add the basil leaves and some salt (1-2 tsp).  You can add more salt later.
Simmer over a low heat for 60-90 minutes until the soup starts to reduce and the colour starts to go deep red and orange.
Once the soup is the consistency you are happy with (not too watery, but not too thick), pass it through a sieve to remove the seeds.
You will need to use a spatula to keep moving the soup around in the sieve and pressing it through.  Keep going until you are only left with a "seed paste".  Remove this from the sieve and go again until you have sieved all the soup.
Serve with some fresh basil leaves and cracked black pepper over the top.
Meal: Food type: