250g Hellmans Mayonnaise
2-3 large garlic cloves
Handful of fresh flat-leaf Parsley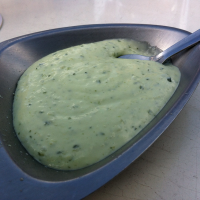 Cuisine:
Cooking time: 5 mins
Serving: 6 people
This is a delicious garlic mayonnaise which works well with many dishes.  I use a lot of garlic and add quite a bit of parsley to help reduce the odorous effect of the garlic.  I use a readymade mayonnaise as it's the best I've found and better than anything I've made to date.
Method
Add the mayonnaise to a bowl.
Crush the garlic and mix it well into the mayonnaise.
Finely chop the parsley and mix well into the sauce.
Cover and leave to sit in the fridge for at least 30 minutes, but better for a few hours to allow the garlic flavour to mellow and to permeate the entire sauce.
Meal: Food type: